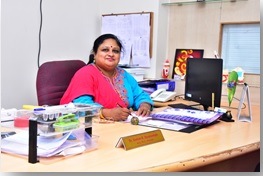 Dr. Suman R. Devarumath
Our institute is one of the leading institutes in Maharashtra in the field of Agricultural Biotechnology. Also, it is reckoned for quality education in the jurisdiction of the Mahatma Phule Krishi Vidyapeeth, Rahuri. Modern agricultural biotechnology includes a range of tools that scientists employ to understand and manipulate the genetic make-up of organisms for use in the production or processing of agricultural products. The objectives in this field will be achieved on dedication of efficient human resources skilled in this field. We strive for better education, research and employment in the field of Agricultural Biotechnology.
We host a dynamic learning institute where staff and students work together to provide an environment where every student can grow academically, socially, emotionally, and professionally. We work together to plan professional development, opportunities and make curriculum decisions. We recognize and celebrate the diversity of our college and believe whole-heartedly that it is a strength for us, a strength that springboards every goal we set and every action we take. We convey to students that they are expected to engage in rigorous, challenging and high quality work. We also demand this of ourselves. Our skills continue to evolve as we focus on the use of multiple data points to form flexible student groups, and look at a variety of ways to infuse technology in the learning process.